Mountain Biking and Biking in the Chequamegon National Forest
With over 860,000 acres of public lands the Chequamegon Forest has countless miles of roads, forest roads, old logging roads, and trails for the cyclist and their family to explore! Wheter you ride a mountain bike or a road bike, there's plenty of places for you to ride in our area.
Click here for more info on the Chequamegon National Forest
---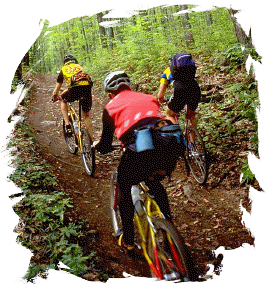 In the Chequamegon there are also many miles of designated mountain bike trails as well. Just to the north and west of the Moose lake area a short drive you'll find the Chequamegon Area Mountain Bike Association trails.
The CAMBA trails lie in and around the beautiful Chequamegon National Forest as well as in Bayfield and Sawyer County Forests - nearly a million acres in which to ride your fat tire bike. Of this, CAMBA encompass an area of approximately 1,600 square miles. The trail system is divided into six clusters, each with one or more trail heads. An overview area map of the entire system indicating the location of each cluster as well as other rideable gravel and on-road paved routes is available. More detailed maps of each cluster with trail routes and navigational narratives are also available at area bike shops and chambers of commerce or directly from CAMBA
---