Canoeing & Kayaking - Hayward, Wisconsin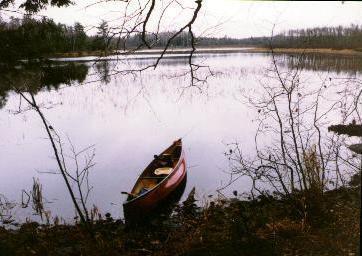 Chippewa River and Teal River Canoe, Kayak, and Fishing Trips
A very affordable outdoor experience for one or the whole family. Enjoy a wilderness fishing outing or just paddle scenic water that's off the beaten path. No power boats, crowds, or noise, just you and the wildlife you will see on the trip, and of course good fishing if you want. Over night trips are available as well. We have trips available through the summer every year.
A great northwoods adventure!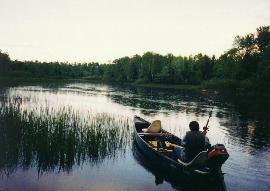 If you want to get away from it all and experience the wilderness we offer serveral options for you paddling or fishing the headwaters of the Chippewa river and remote lakes in the Chequamegon National Forest near Hayward.
We have Canoe and kayak trips on the West Fork of the Chippewa river and the Teal river flowage winding through the beautiful wilderness of the Chequamegon National Forest. We offer shuttle service and drop off at several points up stream on the Chippewa river or paddle and fish the Teal river flowage.
You can paddle upstream or explore miles of shoreline on Moose lake on your own.
We also offer fully guided fishing trips on the river or small remote lakes by canoe or kayak for from 2 people to groups. A great way for the whole family to experience the wilderness and with an experienced guide along the fishing is pretty good too.
Fully guided fly fishing trips are available for musky and smallmouth bass
The river above Moose Lake has a few rapids, but nothing you could really call whitewater so it's ideal for less experienced paddlers, family outings, and for fishing or just enjoying a day on the river. From these drop off points you canoe down stream at your leisure with your vehicle waiting for you where the Chippewa enters Moose Lake.
Our No Rush Fishing Trips
Our trips are great for fishing because there is no rush to get to a pickup point! Once we put you in you have the rest of the day to fish, explore, and have fun. Your vehicle will be waiting for you when you at the end of the trip.
On our river trips above Moose Lake there's no rush to be at a pickup point at a predetermined time, how fast you go is totally up to you. This gives you more time to explore, enjoy natures beauty, have a shore lunch, do some fishing, or whatever. There's plenty to see and great fishing for Musky, Smallmouth Bass, and Walleye.
On the Teal river we put you in at the dam and you can paddle up into Teal lake or into Lost land lake. This trip offers great fishing for musky, northern pike, bass, panfish in the flowage and even walleye if you paddle up into Teal lake. There is no rapids or current in the Teal river flowage to battle, just an easy paddle up to Teal lake.
If you choose one of our fully guided trips it includes canoes or kayaks and your guide will accompany you to assist and instruct. From your guide you will learn more about canoeing and kayaking as well as nature and fishing. With a guide along to show you the best spots to fish and what to use, the fishing is great too.
---
Canoe, Kayak, and Shuttle Rates
---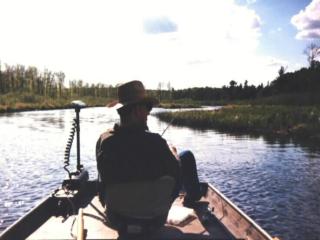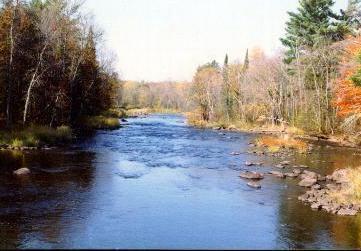 Canoe Trips available
Clam lake to Moose lake - 16 miles
FR174 to Moose lake - 8 miles and our most popular trip
Teal river flowage
Paddling on Moose lake
Fully guided trips on the river or remote lakes
A couple of longer trips are available when water conditions are good. One which takes you down the Torch River to the Chippewa just below Cattail lake then on down to Moose lake and you can also canoe the Big Moose river from Hwy GG to Moose lake. Both these are longer and harder trips and would make good overniters.
Canoe rental and Kayak rentals = $25 per standard canoe or single kayak, shuttle extra.
Larger square back canoes and tandem kayak are available for $30-$40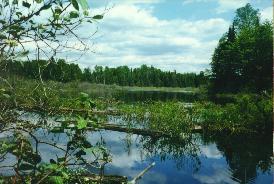 Canoe and Kayak Rental, No Shuttle Service
Leave from Sportsmen's Lodge dock on either Moose lake or the river.
Standard canoes or kayak rental is $25.00 per day, plus deposit.
Extra wide Coleman Scanoe square stern canoe, (capacity 3 persons) $30.00 per day plus deposit.
Dry bags also available for rental
3rd or center canoe seats are available
seat back rests are available
All canoe or kayak rentals include paddles and life preservers, no extra charge.
Guided Kayak and Canoe trips also available
Kayaks and canoes are nothing new, but over the last few years we have seen the paddle sports get even more popular. The kayaks we have today have evolved into very stable and comfortable watercraft. With that we have seen specialty kayaks designed for fishing and an explosion of the popularity of kayak fishing. It all started in saltwater but more and more anglers are discovering that fishing freshwater from a kayak is not only fun but allows you access to waters where you can't get a bigger boat in. I have always used canoes to fish some of the rivers and out of the way spots but have found the fishing kayaks to be more comfortable and enjoyable to fish from on these small waters.
We offer fully guided trips on the Chippewa River or small remote lakes in the Chequamegon National Forest by kayak or canoe for from 2 people to groups. A great way for the whole family to experience the wilderness and with an experienced guide along the fishing is good too. The Chippewa river has an orabundant population of muskies and smallmouth as well as good walleye fishing. Catching big trophy smallmouth from a kayak or canoe is fun and a great experience, and catching muskies from a kayak is maybe the ultimate freshwater experience! Both casting and fly fishing trips are available or combinations.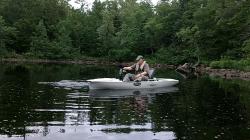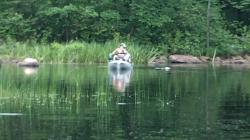 Click here for information on Hobie kayaks
Or here for a dealer in NW Wisconsin

Fully guided trips on the river or remote lakes
Rates depend on group size, duration, and lake or river, please call for rates.
Rates start for a fully guided trip at $200 or $225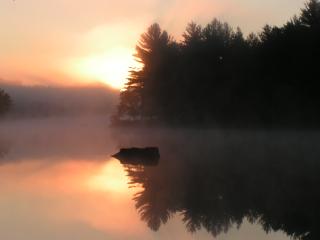 For more info or reservations call us at 1-715=462-9402
or E-mail us at wnoguideservice@gmail.com